House Managers
Maxwell Shockley is the House Manager at O'Connell Youth Ranch, House 2, where he leads a gifted and collaborative team. He aspires for all youth in his home to feel heard, enjoyed, and accepted, while serving them with guidance, teaching, and care. Maxwell seeks to create a therapeutic atmosphere at House 2 of stability and joy. Maxwell earned his Bachelor's in Economics from The University of Missouri-Kansas City. He continued with Master's level coursework in spirituality and comedy at the Global Center for Advanced Studies, while trying out stand up comedy and exploring puppetry. (Max continues to use his interest in puppets to teach O'Connell youth through puppet role plays.) Max then helped run youth ministries and co-founded a successful overstock furniture store, pioneering and refining its e-commerce and social media marketing for about 9 years. Maxwell then had a sense, after an unexpected season of burnout and anxiety, that he needed to realign with his personal gifts and mission. He prayed that God would give him something to do involving counseling, teaching, or pastoral work. When COVID-19 hit, emergency hires were needed at O'Connell Youth Ranch. Maxwell recognized the opportunity to join with his great brother and fellow staff member, Dr. Addison Shockley, whom he has enjoyed working at the ranch ever since! Outside of work, Maxwell's habits of reading, drinking tea, taking care of his house, spending time with loved ones, and his interests in alternative therapy, NLP, and positive psychology keep him pretty busy.
Dawn has been a country mom and wife for more years than she hasn't. For the most part while my 2 children were young I was a stay home mom and have always felt especially blessed to have had that option. In 2007 I decided it was time to rejoin the workforce and applied as a para at a grade school. The district placed me at Santa Fe Trail High School and I was petrified. I just didn't see myself as someone that could deal with a bunch of challenging youth. What I discovered was that I had a way of clicking with the "Problem Kids" … Those were my people. I also began working with the special/high needs population and found a special connection there in a young woman with Rhetts Syndrome. I learned more about patience, love, compassion and kindness from her in the 2 years I worked with her than most people learn in a lifetime. I still visit with her from time to time and each time, I thank God for putting her in my life because I wouldn't be where I am today if not for her. I worked at SFTHS for 3 years before moving to Baldwin where I again spent a few years out of the workforce. In 2015 we were asked to temporarily take in a 16 year old high needs autistic boy who was being removed from an abusive home until they could find permanent placement. We agreed to what we thought would be a 2-4 week placement. 2 years later, not only was he still with us, but we adopted him making him our 3rd and youngest child. In 2020 we were preparing to transition our now 21 year old son into an adult group placement when I felt the need to reach out to … something. I ended up at O'Connell and have a whole new slew of boys to call my own. I firmly believe that without God and love we can not flourish. I focus each day not only on preparing the youth in house 1 for life outside foster care but ensuring that they know, without a shadow of a doubt, that they are loved and cared about. By God and by Me.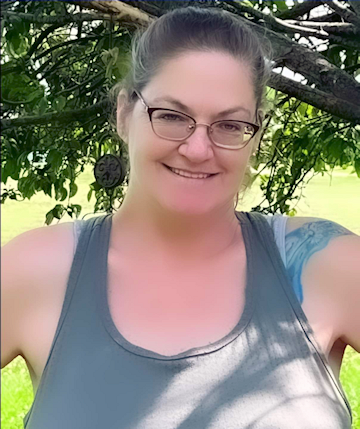 Lex Mapes is the Williams house manager for O'Connell Children's Shelter, where he leads a dedicated team at the forefront of LGBTQ inclusive housing for youth in foster care. The primary goal of Williams house is to provide refuge from the discrimination and harassment that LGBTQ foster youth often face by celebrating, supporting and centering their voices during their time in care. While employed with OCS, Lex worked towards his BSW at Washburn University where his passion for advocacy grew even stronger during his internship with the Kansas City Anti-Violence Project and later as a camp counselor for Kansas' first ever LGBTQ+ youth leadership summit.
In his free time, he enjoys fostering for the Lawrence Humane Society and spending time outdoors with family and friends.
Sydney Harper is currently the house manager and case coordinator for the Winter Facility at the O'Connell Children's Shelter. Sydney is a proud member of the Colorado River Indian Tribes, which is a federally recognized tribe that lays on the southern basin of the Colorado River in Arizona. In 2014, Sydney came to Lawrence to pursue her education at Haskell Indian Nation's University. While at Haskell, she was the vice president of the Social Work Club and received numerous academic accolades. She successfully attained her degree in American Indian Studies with an emphasis in Social Work in 2018.
Sydney has dedicated much of her time in serving the youth of Lawrence. While going to school full time, she served two full terms with AmeriCorps as an Academic Enrichment Facilitator with the Boy's and Girl's Club of Lawrence. This eventually led Sydney into staying on for three additional years as the head group leader for the 4th and 5th grade groups at BGCLK. During her time with club, Sydney was awarded by the Lawrence Kiwanis Club for her leadership, and dedication to the organization.
Sydney has been with OCS over the last four years and has enjoyed every minute of it. She started as a house staff then moved up to an administrative role working as the Food Service Coordinator for the Winter and William's Facility. Shortly after the merge with O'Connell Youth Ranch, Sydney was offered both the case coordinator and house manager position. Since accepting these two roles, Sydney has worked on reshaping the Winter Facility atmosphere. Winter Facility is geared towards helping youth look at the next step in their lives, whether that be college, job opportunities or something as little as a state ID all while providing a safe and nurturing environment.
In her free time, Sydney enjoys visiting with her three nephews, swimming, fishing, and watching/playing basketball. Sydney also enjoys the company of her large family one in which she has over 25 first cousins.